SWIMRUNMAN VERTICAL SWIMRUNMAN by HEAD
30.60km ||

ÖTILLÖ MERIT RACE
6.30km SWIM | 24.30km RUN | LIMITED PLACES
"Unique in the world, this course is the swimrun of all superlatives. An extraordinary challenge".
It is a world exclusivity and it is French, presentation of the VERTICAL SWIMRUNMAN ÖTILLÖ MERIT RACE. Le Grand Serre in patois means "the highest peak" and it is at the very top that you will have to go, at the end of the effort and yourself, to win your FINISHER medal. 8 swimming sections (6.30km), including an incredible 2 500m crossing of Lake Laffrey in the longitudinal direction, 9 running sections (22.5km), then Vertical kilometre of the large greenhouse for an epic finale that you won't find anywhere else.
"The most direct and difficult Vertical Kilometre in the world"
He will stand in front of you, you will then have no other choice to cross the finish line than to face its vertiginous slopes (52% average) which make him the Vertical kilometer The most direct and the most difficult in the world (1811m long for 1000m D +). Giant. To reach your Grail, which will lead you to a summit of the Alps at 2141m, you will attack a unique and extraordinary sporting challenge that will forever put you in the SWIMRUNMAN legend. In teams of two only, where humility and mutual help will guide your day, you will have to be able to present yourself at the bottom of the Vertical Kilometre before the fateful barrier of 6h40min of effort. Otherwise, you and your teammate will not be allowed to climb the last difficulty of the day during which the accompanying persons are authorized and strongly recommended.
LIMIT PLACESUSAES: 100 Teams

---
Total distance: 30.60km
Total Swim: 6.30 km
Total run: 24.30km
Positive altitude difference: 1681m
Effort time: 4h40 at 8:30 am
---
Number of swims: 8
Number of Run: 9
---
Big swim: 2.50km
Big run: 6.70 km
Finishline: Vertical kilometre (1.8 km to 52%)
---
Liquid refuelling: 7
Solid refuelling: 5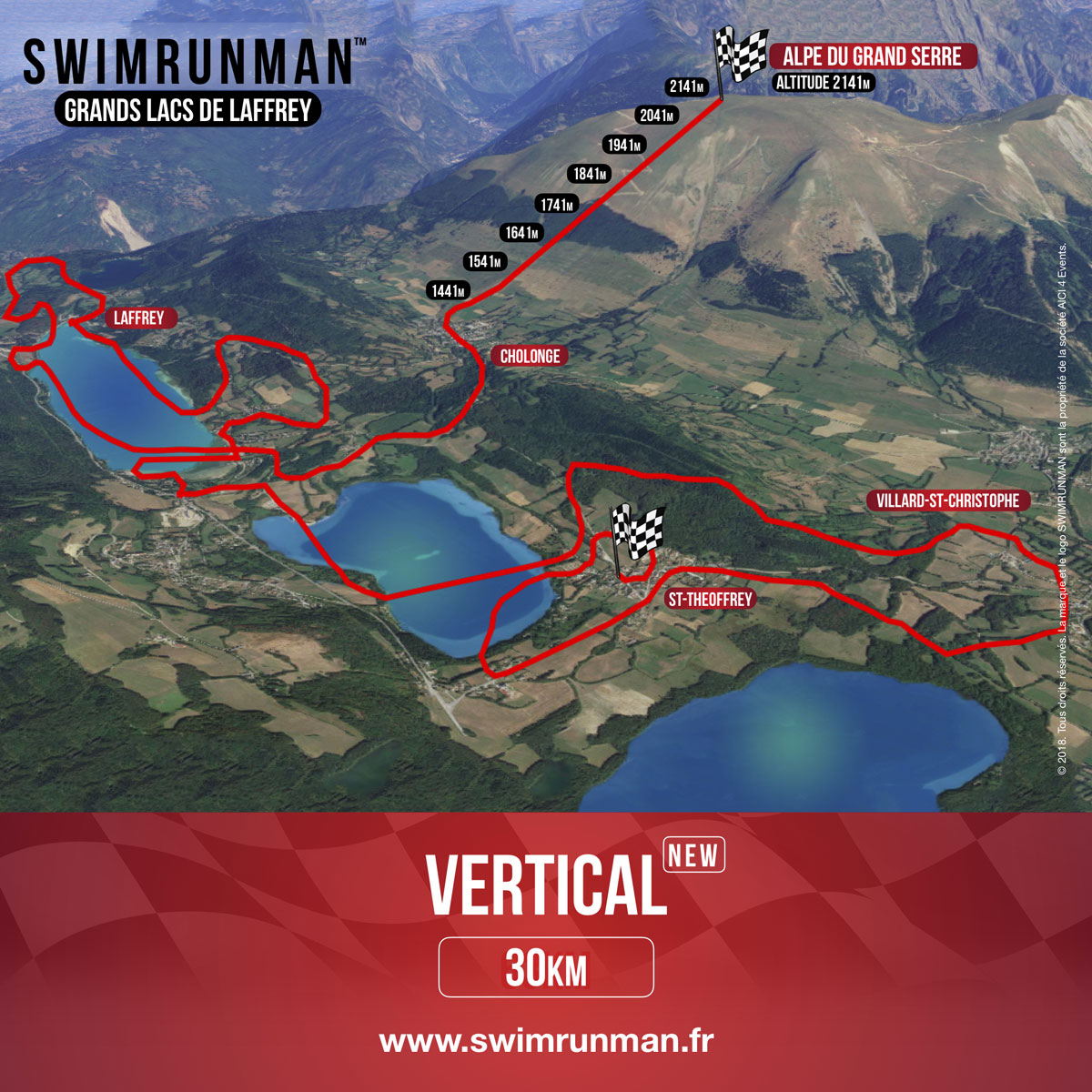 "Extraordinary landscapes for an extraordinary race"
In the early morning, everything will seem calm and normal. And yet, on the starting line, in a quiet and peaceful street of the village of Saint Théoffrey you will already see on your right the justice of the Peace of your day: The Grand Serre Alpe and its mythical shoelaces. With your teammate you will get ready to embark on a unique adventure and a unique swimrun race organized nowhere else in the world. The first few hours of effort of your day will take you from lake to lake, shore to shore, on a typical swimrun course with sometimes very short SWIM and RUN portions (200-300m) or a little longer (6.70km in running and 1.25km in swimming). During the first 14 transitions you will fully enjoy this Alpine scenery, with its thousand treasures, at the foot of Taillefer, Belledonne and the Parc National des Écrins. From the Extraordinary and magical landscapes.
Then during your 15Th transition, you will switch to another world, you will leave behind you the village of Laffrey and the applause of the massed public to encourage you one last time, and you will leave to face the myth of the Great Greenhouse. A grandiose 2,500-metre swim from end to end of Lake Laffrey and its changing blue waters will remind you how extensive the Great Lakes of Laffrey are. Then 3.30km of running approach will introduce you to the foot of the Most direct vertical kilometre in the worldin front of yourself, your doubts and certainties. You will then have the right, with your partner, to be accompanied by your relatives, a friend or your spouse to the top. 1811m to climb meter by meter, for 1 000m of D+.
Your reward will be at the top, in more than one way, with a breathtaking 360° view of Taillefer, Oisans and Écrins. Mythical mountains, breathtaking walls, a breathtaking horizon and a Medal finisher around the neck that will reward your efforts.
There is only one thing that can make your desire to succeed impossible to achieve: the fear of failing. Will you FINISHER OF THE VERTICAL SWIMRUNMAN ÖTILLÖ MERIT RACE ?